God's love knows no borders! At Truth's Place we are sharing the love of God with our neighbors and meeting their needs right where they are!
What We Do
Be sure to scroll down for more NBTT ministry information!
Meeting Others Where They Are!
It is our purpose to point others to a real and relevant relationship with The Truth and to show his unconditional love for us! We look forward to sharing with you all the Lord is teaching us.
We are a ministry committed to meeting people where they are, and we do this in real ways by meeting real needs. If you have a desire to serve in this way, we would be honored for you to join us!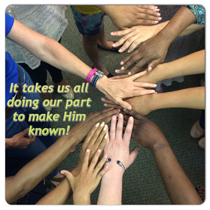 Ministry Spotlight: Weekend Food Ministry
Nothing but the Truth serves 41 schools each week in Barrow, Clayton and Gwinnett Counties. 30 of those schools are located in Gwinnett! As the 2015-16 school year comes to a close, we would like to thank ALL of our ministry partners who have contributed food, time and resources. To the local businesses that came out and helped pack food bags and deliver, thank you! To the countless churches and individuals that gave so much this year to help make sure over 700 kids each week had food to fill the weekend gap, thank you! To the students and schools who held food drives for other students within their same county, thank you! Thanks to everyone coming together, Nothing but the Truth sent home over 23,175 bags of food this school year! That's 23,000 cans of ravioli, packages of pop tarts, oatmeal, Mac & cheese… you get the idea!
The following is a quote from one of our school counselors that really sums up what we do… "Thank you so much for delivering food bags to our school every week.  You do not know what a blessing the food bags are to our families and how the
kid faces light up when I bring them to their classrooms.  You and your church are the hands and feet of Christ in our community."
If you would like more information on how your business, school, church, family or just yourself can get involved and help for the upcoming school year, send an email to weekendfood@nothingbutthetruth146.org and we will get you plugged in! We are collecting food over the summer to begin restocking the pantry for the 2016-17 school year. This is a great opportunity for VBS groups meeting over the summer… NOW is the time to get involved. #itallcounts