God's love knows no borders! At Truth's Place we are sharing the love of God with our neighbors and meeting their needs right where they are!
What We Do
Be sure to scroll down for more NBTT ministry information!
Meeting Others Where They Are!
It is our purpose to point others to a real and relevant relationship with The Truth and to show his unconditional love for us! We look forward to sharing with you all the Lord is teaching us.
We are a ministry committed to meeting people where they are, and we do this in real ways by meeting real needs. If you have a desire to serve in this way, we would be honored for you to join us!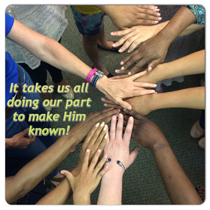 Ministry Spotlight: ESL (English as a Second Language) Ministry
The ESL (English as a Second Language) Ministry at NBTT is a fun and rewarding group of volunteers and students that come together on Tuesday mornings to improve reading, writing and speaking in English.  We also spend time in God's word and prayer.  When we started classes in 2013, we never dreamed how the Lord would use this ministry to demonstrate the love of Christ to the nations—all while in our meeting space in Lawrenceville, GA!  If you enjoy teaching adults, love to play with children, yearn to share God's word, or just like to lend a helping hand, come visit us from 9:30am-11:30am on a Tuesday morning from September-May.  We promise that you will be so blessed!
After this I saw a vast crowd, too great to count, from every nation and tribe and people and language, standing in front of the throne and before the Lamb. Rev. 7:9