God's love knows no borders! At Truth's Place we are sharing the love of God with our neighbors and meeting their needs right where they are!
What We Do
Be sure to scroll down for more NBTT ministry information!
Meeting Others Where They Are!
It is our purpose to point others to a real and relevant relationship with The Truth and to show his unconditional love for us! We look forward to sharing with you all the Lord is teaching us.
We are a ministry committed to meeting people where they are, and we do this in real ways by meeting real needs. If you have a desire to serve in this way, we would be honored for you to join us!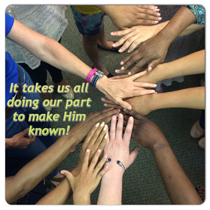 Ministry Spotlight: Christmas Shoe Box Surprise
It's time again for Christmas Shoe Box Surprise! Each year Nothing but the Truth shows the love of Christ through a small gift we call Christmas Shoe Box Surprise. These boxes are used for our Truth's Place Family that we serve all year. Students from homework help, ESL, Life Groups and students in our weekend food ministry. It's a huge opportunity again for us to help our school staff build relationships with the families and students they serve.
On the flyer you will find a link that will take you to Sign Up Genius so you can register the boxes you would like to fill. If you have any questions, email info@nothingbutthetruth146.org.
Please return UNWRAPPED by December 7th. Also, join us for wrapping day on December 10th. Click WRAPPING DAY to sign up!