God's love knows no borders! At Truth's Place we are sharing the love of God with our neighbors and meeting their needs right where they are!
Be sure to scroll down for more NBTT ministry information!
Meeting Others Where They Are!
It is our purpose to point others to a real and relevant relationship with The Truth and to show his unconditional love for us! We look forward to sharing with you all the Lord is teaching us.
We are a ministry committed to meeting people where they are, and we do this in real ways by meeting real needs. If you have a desire to serve in this way, we would be honored for you to join us!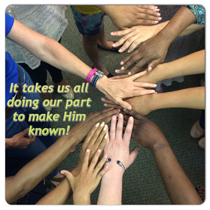 Ministry Spotlight: Nothing But The Truth!
Ever wanted to know the heart of Nothing but the Truth? What we are all about? Several of our ministry partners will give you a glimpse of what it's like serving at Nothing but the Truth. If you find you want to join us, and we hope you do, send us an email to serve@nothingbutthetruth146.org and we will get you, your family, your business or your small group involved. No matter what you do…it all counts!
The Nothing but the Truth Family wish you all a very Merry Christmas.