God's love knows no borders! At Truth's Place we are sharing the love of God with our neighbors and meeting their needs right where they are!
What We Do
Be sure to scroll down for more NBTT ministry information!
Meeting Others Where They Are!
It is our purpose to point others to a real and relevant relationship with The Truth and to show his unconditional love for us! We look forward to sharing with you all the Lord is teaching us.
We are a ministry committed to meeting people where they are, and we do this in real ways by meeting real needs. If you have a desire to serve in this way, we would be honored for you to join us!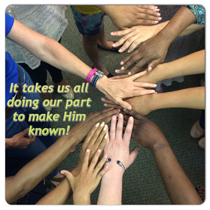 Ministry Spotlight: The Swag Bag Project
The Swag Bag Project is a community ministry partnership providing access to feminine hygiene products and health information to middle and high school girls living in poverty in Gwinnett County.
FACTS
Lack of access to feminine hygiene products affects hundreds of our Gwinnett County middle and high school girls, from low income/poverty level families. These same girls can miss several days of school in a month because they do not have what they need – affecting their education, dropping out of classes, etc. Every girl has the right to experience her period with dignity, necessities and understanding.
HOW CAN YOU HELP?
Support 1 girl for 1 year
Support 10 girls for 1 year
Support a school in need
Share the need
For more details and information email info@nothingbutthetruth146.org. You may also download/share this brochure.