What We Do | Truth's Place
A ministry center offering Hope and Restoration for ALL who enter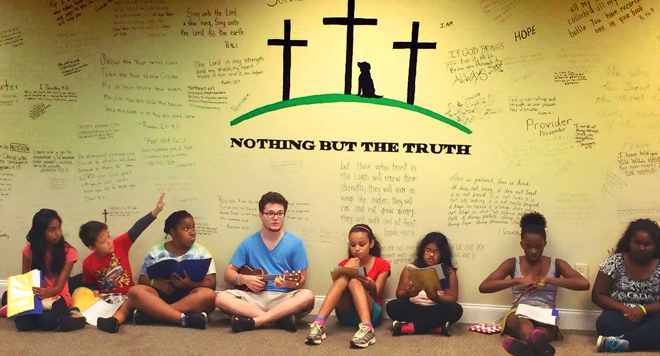 Truth's Place, located at 250 Langley Dr. Suite 1318 in Lawrenceville, is a place where we offer Hope, Restoration and the unconditional love of Jesus to everyone who walks through our doors. It's a place of conversation where we can share life together, encouraging one another, and resting in the truth of God's Word.
Looking for ways to join Nothing but the Truth and "meet others where they are?"
Monday: "Truth Seekers"
Homework help…. Approximately 20 adults needed on Mondays from 6:00-8:00PM. Schedule follows the Gwinnett County Public School Calendar. See "Do you enjoy working with Children?" for requirements.
Tuesday: ESL Classes
Do you have the gift of teaching or heart for encouraging? If so, we would love to have you join us each Tuesday morning from 9:30-11:30 for our ESL classes. Ministry Partners are also needed to share a 10-15 minute devotion (in English) and prepare a light snack for 35 ladies. Classes also follow the GCPS calendar.
Tuesday and Thursday: Life Conversation Groups
Our Life Conversation Groups involve working with children and teens from nearby apartment communities. Are you willing to do the hard work? Invest in high risk kids and teens? Show up consistently? If so, then we need you to join us in battling for the lives of these kids. Help them from becoming another statistic that should break our hearts. Each Tuesday and Thursday we meet at Truth's Place from 6:30-8:00 and spend time hanging out and hovering over the Gospel. (Ministry Partners need to be available 6:00-8:00PM). See "Do you enjoy working with Children?" for requirements.
Do you like to cook? Here's another way to serve on Tuesday and Thursday. Click on the link to Sign Up Genius for specific details and to select the date you want to provide a meal.
Do you enjoy working with children?
We have many children that come on Monday, Tuesday and Thursday night during our Life Conversation Group.  Could you invest two hours into the life of a child? Rotating schedule available.

A current background check must be submitted along with a NBTT volunteer application to work with children.
Once your ministry partner application is received, we will send you a safe, secure link for you to complete online background check. All results are stored electronically so all information is secure.
Looking to serve with outreach events?
Pancake breakfast, hot dog cookout, Mother's Day, back-to-school events are just a few of the ways we serve our community.
Contact us at outreach@nothingbutthetruth146.org to begin receiving emails on upcoming ways for you to serve.